We Have A Brand New Brand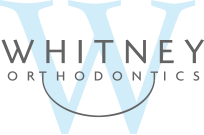 Recently we told you about our office renovations, but that's not the only thing that we targeted for revamping. We debuted a new logo and name for our practice in June, and boy, does it shine!
We've slowly rolled out this new Whitney Orthodontics look over the past several weeks as we updated our website, appointment cards and office signage.
Why the new look and name? Change is good, and we felt that it was time to have a clean new logo created to coincide with our office improvements. While we still have the same great doctors including Dr. Tricia Robertson, we felt the need to streamline the name for branding purposes. Our practice name has changed several times through the years, but this one is here to stay!
This crisp design is a way of helping people in the community easily identify our practice.
This design is more than a logo and an updated business name. It's a brand; it's an artistic representation of our promise to our patients. This timeless image is simple and inviting. It will grow with our practice and help patients and parents learn what they can expect from our services. It is a depiction of who we are and who we want to be. That's a lot of responsibility, but our brand is up to the task.
"We felt like this was a good time to give our brand an update, since our office is sporting a new look these days, " says Dr. Jim Whitney. "We're happy with the new look, and are hopeful that we can make it as recognizable here in Sugar Hill as Apple or Coca-Cola are worldwide."
That's a lofty aspiration, but we're up for the task. So get used to this snazzy design, because you're going to be seeing it in lots of typical places, including our website, business cards, rewards cards, advertisements and all of our promotional materials. But you'll also see it pop up in some fun and unusual ones – like on your own body parts. Don't worry – we won't brand you like cattle. We're getting temporary tattoos of our logo to give away at community events such as the Sugar Rush Fall Festival and the Suwanee Festival.
We hope you like the new look. Be sure to tell us what you think about our new logo at your next appointment, or when you see us out in the community!