Dr. Jim Completes Another Successful Mission Trip in Haiti
"Remember that the happiest people are not those getting more, but those giving more"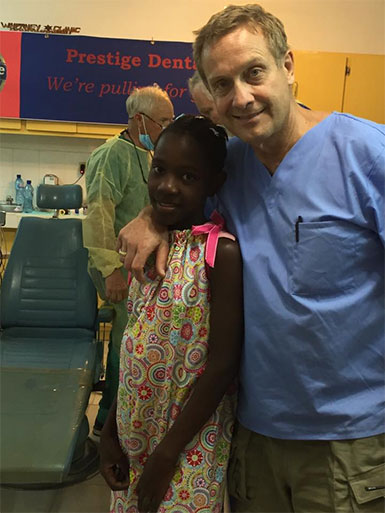 Dr. Jim and Dr. Elaine Whitney believe they have been blessed beyond measure in their career field, and as a way of giving to those who have so little, Dr. Jim has been involved and participated in medical mission trips to Haiti since 2001.
The Haiti Medical Mission is comprised of a group of doctors, dentists, nurses and support personnel who travel to Hinche, Haiti twice annually to provide medical and dental services in the on-site Whitney clinic in affiliation with the partnering of the St. Monica's Catholic Church in Duluth, Georgia and Sacre Couer Catholic Church in Haiti.
Each year the team sees hundreds of dental and medical patients who have not had regular access to care. The importance of the Whitney clinic cannot be overstated, according to the St. Monica website. Over the years and through donations, they have been able to provide an on site medical doctor year round. On the dental side, they have seen some significant improvements with teaching and education of basic oral hygiene, but there is still much to do. Treatment of infections and extractions remain a large part of their dental interventions.
"The best part of these trips is seeing the impact on the patients, and the toughest part is when we leave and seeing the unfinished business and need," Dr. Jim says.
In spite of the physical hardships of delivering care in Haiti, Dr. Jim says: "I feel that we get back more than we give; the people of Haiti are wonderful and we look forward to continuing to help them for many years."